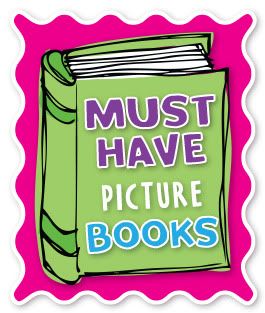 Lindsey, The Teacher Wife, is having a linky party for Must Have Picture Books. All you have to do is click the image above to link to her blog!!!
One of my favorite books is Big Al! This story is great for social development during the first days of school. It can also be used to teach questioning!
Click Image to Purchase
Big Al is a fish who wants to make friends! He tries everything he can think of to make friends, but nothing seems to work! The other fish are afraid of him because he is different. They all think that Big Al is very big and very scary! When Big Al comes to the rescue of the other fish when they get caught in a fisherman's net, they realize what a great friend he really is!
Another book recently discovered but not recently released. Actually, it was released in 1955. I snagged this bad boy after diving into Katie Wood Ray's In Pictures and In Words. What a magnificent way to teach illustration techniques. This book was also referenced during the I Teach K National Conference by Shari Sloane!
Click Image to Purchase
Harold is an inventive little fellow who devises his own path, invents his own moon to light his way, makes a boat when he finds himself enveloped in a purple sea, creates pies when he is hungry, and so on until he is tired. Thanks to cleverly leaving behind special images as pointers to guide his way, he makes it back home in one piece and with lots of exciting stories to tell.
The last book that I heart is Not Norman! This book is FANTASTIC for teaching tone! Tone is a manner, a feeling or atmosphere the author set in the story, or towards a subject.
Click Image to Purchase
Norman the goldfish isn't what this little boy had in mind. He wanted a different kind of pet--one that could run and catch, or chase string and climb trees, a soft furry pet to sleep on his bed at night. Definitely not Norman!
Don't forget to link up with Lindsey by clicking the first image!